Football: Correctly pick all 64 Fifa World Cup results to earn $5m from the TAB
It may help to be a football buff but lack of sporting knowledge is hardly a barrier to entry – the TAB is offering $5 million to anyone who can correctly pick the winner of all 64 matches in the Fifa World Cup.
The TAB's World Cup tipping competition is on again from today after a successful run in 2014, and follows the $1m prize on offer for the 2015 Rugby World Cup, which 50,000 people entered.
"You don't get many free tickets in a $5m raffle, last time I checked," the TAB's Mark Stafford said. "It's free, just have a crack."
In 2014, the Netherlands' early 5-1 demolition over Spain saw the majority of hopefuls fall out of the competition before the fourth game. No one lasted longer than a week.
However, the 2018 competition will be different in it will reward the top 500 tipsters with a $100 account top up.
"In the past it was deemed the best was whoever survived the longest, but you might get that person picked the first 12 but then the rest of the tournament they went really average. Now, we'll look at the whole thing and saw these 500 were the top 500 across the whole tourney."
Hopefuls don't need a TAB account to enter the competition, but will need to open one if they are among the top 500 to get their winnings.
As well as the added prizes, entrants will be able to create groups and track how their mates are going, as well as track their own progress on the overall leaderboard.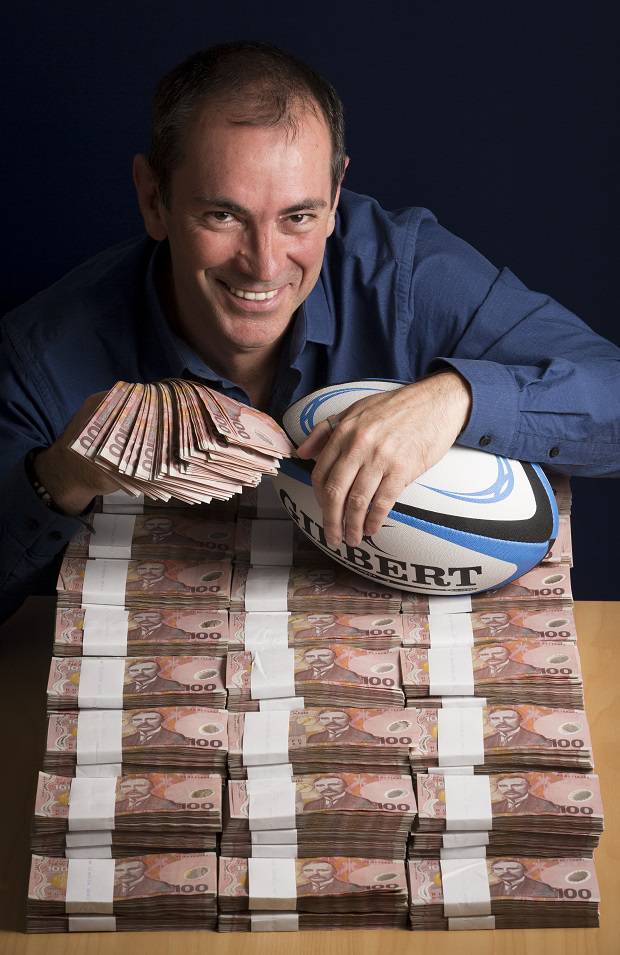 "It's quite a good banter creator," Stafford said.
In competitions such as this, it's natural for entrants to try to pick the upset. However, with three options in a football game – at least in the round robin stages – it can be a bit tougher.
"If it's a draw, it gets rid of a few people. If the underdog wins, it gets rid of a lot."
"People try to pick the upset, but you don't have to think like that, because natural attrition will get rid of everyone anyway. So absolutely pick what you think will happen – not what might happen."
"I challenge anyone to go into this competition and watch the first game and not be energised by watching who you've picked."
The Fifa World Cup kicks off on June 14. The TAB's $5m competition is now open at https://freekick.co.nz.
Want help with your picks? The Herald's Cameron McMillan has a crack at the 64 results:
Group A
Russia v Saudia Arabia – Russia win
Egypt v Uruguay – Uruguay win
Russia v Egypt – Draw
Uruguay v Saudia Arabia – Uruguay win
Uruguay v Russia – Uruguay win
Egypt v Saudia Arabia – Draw
Group B
Morocco v Iran – Draw
Spain v Portugal – Draw
Morocco v Portugal – Portugal win
Iran v Spain – Spain win
Spain v Morocco – Spain win
Iran v Portugal – Portugal win
Group C
France v Australia – France win
Peru v Denmark – Draw
Denmark v Australia – Denmark win
France v Peru – France
Australia v Peru – Peru win
Denmark v France – Draw
Group D
Argentina v Iceland – Argentina win
Croatia v Nigeria – Croatia win
Argentina v Croatia – Argentina win
Iceland v Nigeria – Iceland win
Nigeria v Argentina – Argentina win
Iceland v Croatia – Draw
Group E
Costa Rica v Serbia – Draw
Brazil v Switzerland – Brazil win
Brazil v Costa Rica – Brazil win
Serbia v Switzerland – Serbia win
Serbia v Brazil – Brazil win
Switzerland v Costa Rica – Switzerland win
Group F
Germany v Mexico – Germany win
Sweden v Korea Republic – Draw
Korea v Mexico – Draw
Germany v Sweden – Germany win
Korea Republic v Germany – Germany win
Mexico v Sweden – Mexico win
Group G
Belgium v Panama – Belgium win
Tunisia v England – England win
Belgium v Tunisia – Draw
England v Panama – England win
Panama v Tunisia – Panama win
England v Belgium – Draw
Group H
Colombia v Japan – Colombia win
Poland v Senegal – Draw
Japan v Senegal – Japan win
Poland v Colombia – Poland win
Poland v Japan – Draw
Senegal v Colombia – Colombia win
Round of 16
Uruguay v Spain – Spain win
Portugal v Russia – Portugal win
France v Croatia – France win
Argentina v Peru – Argentina win
Brazil v Mexico – Brazil win
Germany v Switzerland – Germany win
England v Japan – Japan win
Colombia v Belgium – Colombia win
Quarters
Spain v France – Spain win
Portugal v Argentina – Portugal win
Brazil v Japan – Brazil win
Germany v Colombia – Germany win
Semis
Spain v Brazil – Brazil win
Portugal v Germany – Germany win
Final
Brazil v Germany – Brazil win